Ottawa Invisalign® Dentist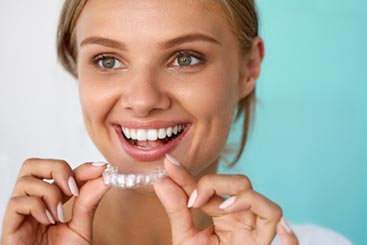 Why Choose Invisalign Ottawa Over Traditional Braces?
Comfortable – By using these soft teeth-straightening trays that are custom-designed just for you, your teeth will straighten over time while causing you little to no discomfort.
Discrete – Invisalign, also known as "clear braces," is an effective orthodontic treatment that is virtually invisible to the outside world, meaning that you can work and socialize without feeling self-conscious.
Convenient – Since Invisalign usually requires less adjustment than traditional braces, the complete treatment typically takes fewer visits to your local dental clinic.
Predictable – The Invisalign teeth-straightening method uses sophisticated treatment plan software that allows you to preview the final results before treatment even begins!
Irritant-Free – Having soft, malleable trays rather than hard, metal brackets prevents your gums, tongue, and cheeks from being cut or irritated.
Food-Friendly – Unlike traditional braces, with Invisalign, you have the flexibility to remove your aligners and enjoy any and all foods. Say hello to corn on the cob, apples, and your favorite candy!
Accessible – Taking care of your teeth and gums is made simple by the fact that the Invisalign retainers are easily removable, allowing you to easily brush, floss, and rinse your mouth with mouthwash.
Flexible – No one likes the feel of aligners 24/7, and with Invisalign, you can periodically remove the tray without compromising the outcome of the treatment. Just be sure to wear your Invisalign retainers at all times, except to eat, drink, and brush your teeth for the best results.
Call Our Ottawa Invisalign® Dentist Today!
To explore our Ottawa Invisalign solution more closely, visit their site at www.invisalign.ca or request a dental appointment at Constitution Dental today!