Invisalign
Invisalign Ottawa – Orthodontic Treatment & Clear Braces Dentist ON
The Clear Choice For Braces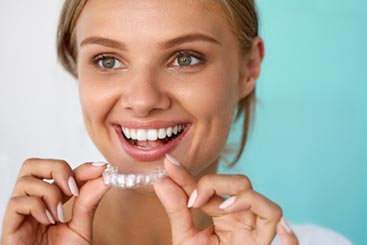 If you have been looking for a truly non-invasive and inconspicuous option for your orthodontic treatment at our Downtown Ottawa dental care centre Invisalign® Ottawa may just be the right fit for you. Treatment consists of a series of transparent trays that gradually shift and align your teeth into their optimal position. The trays are comfortable to wear, removable to allow for easy eating and oral hygiene and virtually invisible to the outside world.
Why Choose Invisalign® Ottawa?
Comfortable – By using soft aligners that are custom-designed just for you, the trays are truly comfortable to wear
Discrete – Invisalign® is an effective orthodontic treatment that is virtually invisible to the outside world
Convenient – Since Invisalign® usually requires less adjustment than traditional braces, the complete treatment typically takes fewer visits
Predictable – Invisalign® uses sophisticated treatment plan software that allows you to preview the final results before treatment even begins!
Irritant-Free – Having soft, malleable trays prevents your gums, tongue or cheek from being cut or irritated
Food-Friendly – Unlike traditional braces, with Invisalign® you have the flexibility to remove your aligners and enjoy any and all foods
Accessible – Taking care of your teeth and gums is made simple by the fact that the Invisalign® aligners are easily removable
Flexible – No one likes the feel of aligners 24/7 – with Invisalign®, you can periodically remove the tray without compromising the outcome of the treatment
To explore the Ottawa Invisalign® solution more closely, visit their site at www.invisalign.ca.